TOKYO — Former Japanese leader Shinzo Abe died Friday after being shot at a campaign event, an attack that shocked a country where gun violence is virtually nonexistent.
Abe, 67, was a towering political presence even after he stepped down as Japan's longest-serving prime minister, and he was campaigning ahead of elections scheduled for Sunday.
He had just begun a speech in the western city of Nara, near Kyoto, when gunfire was heard around 11:30 a.m. local time (10:30 p.m. Thursday ET).
Police said Tetsuya Yamagami, a 41-year-old unemployed man, was arrested at the scene and was under investigation in connection with the attack. The suspect made a confession, police said, adding that he told them he harbored a grudge against a group he believed was connected to Abe. Yamagami also claimed to police that he had previously worked at Japan's Navy for three years.
They said they understood the attack was carried out with a homemade gun and later found several other weapons that appeared to be homemade from a mix of metal and wood at Yamagami's residence. It is unclear whether the suspect carried proper licenses for the weapons.
Police said they are still investigating whether the suspect acted alone.
Video footage of Abe's speech showed a puff of white smoke appear behind the former leader along with two loud cannon-like blasts. Security officers were seen tackling a man to the ground, with video and photos showing what appeared to be an improvised weapon lying on the ground.
Abe was rushed to Nara Medical University Hospital after going into cardio and pulmonary arrest. The hospital announced his death shortly after 5 a.m. ET.
Dr. Hidetada Fukushima, a professor of emergency medicine at the hospital, said Abe had two gunshot wounds and no vital signs when he arrived less than an hour after the shooting. Lifesaving measures including blood transfusions were unsuccessful, he said, and Abe was pronounced dead at 4:03 a.m. ET.  
Addressing reporters later, Prime Minister Fumio Kishida said Abe had been killed in "a despicable and barbaric manner."
"I had been praying that he would somehow survive this, but our prayers were in vain, and to be receiving this news — I just have no words, only that I would like to offer my deepest condolences," Kishida said, his eyes red and teary. 
Kishida said campaigning in the election for the upper house of Parliament would continue Saturday. Abe, who stepped down in 2020, was campaigning for other members of the governing conservative Liberal Democratic Party but was not a candidate himself.
"I believe that free and fair elections, which are the foundation of democracy, must absolutely be upheld," Kishida said.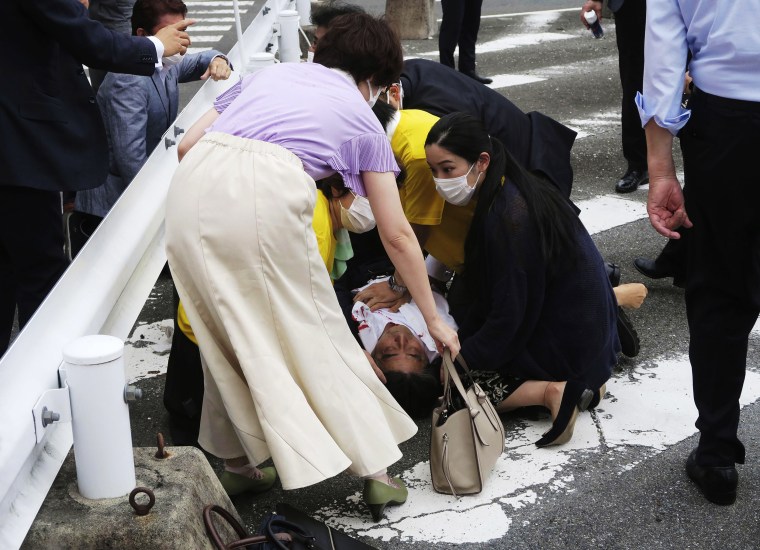 President Joe Biden decried the attack, calling the former Japanese leader a "champion of the alliance between our nations and the friendship between our people."
"I am stunned, outraged, and deeply saddened by the news," he said in a statement, calling the assassination "a tragedy for Japan and for all who knew him."
Later, Biden issued a proclamation ordering that United States flags be flown at half-staff at the White House and at all government buildings and military bases in memory of Abe.
"Even in the moment he was attacked and killed, he was engaged in the work of democracy, to which he dedicated his life," the proclamation said.
Biden said he intends to head to the Japanese Embassy in Washington and sign the official condolence book. He confirmed reports that Abe was slain with a "home-made weapon" and noted that while thousands die from gunfire every year in the U.S., in Japan "they have one, one, one."
In a conversation with Kishida, Biden reflected on Abe's legacy of promoting a "free and open Indo-Pacific" and resurrecting high-level Quad meetings between Japan, the United States, Australia and India, according to a readout of the call released Friday night by the White House.
"The President noted our unwavering confidence in the strength of Japan's democracy and the two leaders discussed how Abe Shinzo's legacy will live on as we continue the important task of defending peace and democracy," the White House said.
Abe dominated Japanese politics for the best part of a decade and has remained politically active since his resignation, leading the biggest faction in his party.
The incident sent shockwaves through the country, where gun violence is extremely rare and ownership laws are strict.
Iwao Horii, an LDP member of the upper house representing Nara, was standing next to Abe when the former prime minister was shot.
"We heard two loud sounds while he was talking, and he fell immediately after that," Horii said at a news conference. He added that Abe was unresponsive when emergency medics tried to resuscitate him.
"This is something that shakes the very foundations of democracy and cannot be forgiven," he said.
The shooting was also condemned by the country's main opposition party, the center-left Constitutional Democrats, with party leader Kenta Izumi calling it "an act of terrorism."